Chronological Order of Events
The course leading up to orthognathic surgery can be lengthy. Below is a general overview of the order in which things need to be done prior to surgery.
1. Imaging – X-rays:
Within 1 year prior to consultation lateral panorex and PA cephalogram x-rays (can be obtained at C-Dental) are highly recommended prior to your consult.
2. Initial Consultation:
Meet with Dr. Deschamps-Braly to determine your dental occlusion and which surgery is necessary for you.
3. Orthodontics / Braces:
6-18 months prior to surgery AND 3-6 months after surgery. Your orthodontist will align your teeth in such a way that AFTER orthognathic surgery your bite fits correctly. Some patients may need to wear braces for 6-9 months, whereas more complex cases may require braces for up to 18 months or longer. Your braces will be worn for an additional 3-6 months after surgery depending on your circumstances.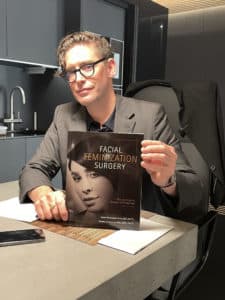 Just Published!
The wait is over! Dr. Deschamps-Braly's new book "Facial Feminization Surgery: The Journey to Gender Affirmation" is back and available now. This second edition covers the advances in facial feminization as well as helpful patient stories and is a great resource for FFS patients and their loved ones.
LEARN MORE
4. Imaging – Ct Scan:
Prior to and after surgery. Typically, 3-4 weeks prior to orthognathic surgery. Also 1 week AND 6 months postoperatively.
5. Dental Cleaning:
A dental cleaning is desired at least 2 months prior to your surgery.
6. Arresting Wires Placed:
Your orthodontist will place 'arresting' or 'static' wires on your orthodontics 3-4 weeks prior to surgery to stop your teeth from moving.
7. Final Plaster Models:
Plaster models on your teeth will be taken prior to surgery to help in the surgical planning. These can be done at the same time you have your pre-operative CT scan taken: around 2 weeks after arresting wires placed and 1-2 weeks prior to surgery.
8. Hooks Placed:
If needed, hooks will be placed on your brackets by your orthodontist shortly about 1-2 weeks prior to surgery (if necessary).
9. Day of Surgery:
Will occur take place on a Wednesday or Thursday at CPMC Davies Campus and requires a one night hospital stay. You will follow up with us the Monday and Friday following surgery.
10. Duration of Surgery:
Upper jaw: 2-3~ hours; lower jaw (bilateral sagittal split osteotomy (BSSO)): 2-3~ hours; bi-maxillary (both jaws): 5-6~ hours.