Female face. Image credit: Chris Gralapp
The Differences Between Male and Female Cheeks
Some of the major differences between men's and women's faces include cheek shape and size. Men's cheeks are characterized in part by more angular, chiseled cheeks, whereas a woman's cheeks are usually more rounded and soft with prominent cheekbones that project further out from the face.
Male face. Image credit: Chris Gralapp
What Is Ftm Masculinizing Cheek Augmentation?
Cheek masculinization surgery is typically included within the cluster of surgical procedures that compromise facial masculinization surgery (FTM) because the cheeks are such a prominent facial feature. To convey a more masculine appearance, the overall shape of the cheekbones is just as important as their size — both being a strong indicator of gender. In addition, certain ethnic groups tend to have larger cheek sizes, that is why we tend to consider cheek size individually within the context of your facial features and your masculinization goals.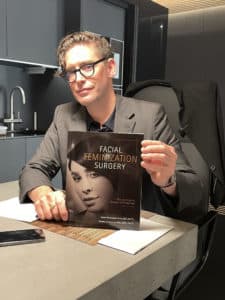 Just Published!
The wait is over! Dr. Deschamps-Braly's new book "Facial Feminization Surgery: The Journey to Gender Affirmation" is back and available now. This second edition covers the advances in facial feminization as well as helpful patient stories and is a great resource for FFS patients and their loved ones.
LEARN MORE
How Does Cheek Augmentation Work to Masculinize the Face?
Cheek masculinization surgery creates more angular, chiseled, and masculine-looking cheeks to further the goals of FTM facial confirmation by utilizing some — or all — the following procedures:
Cheek Augmentation (surgical): augmenting the cheeks with lipo-filling or placing implants over the bone and under the skin to increase cheek fullness, or,
Cheek Reduction (surgical): reducing the width and/or the prominence of "chubby" or overly-feminine looking cheeks, or,
Fat Transfer Injections (non-surgical): to improve the size and shape of the cheek without invasive surgery.
The modification of cheeks may require cheek augmentation with implants alone, reshaping the cheekbone via reduction, or increasing cheek volume with fat transfer injections, or a blend of all the three procedures to achieve the desired outcome.
How Is Cheek Augmentation Surgery Performed?
Masculinizing cheek augmentation is performed under general anesthesia with implants inserted through incisions made on the insides of the mouth. The size and shape of the implants will depend on your underlying bone structure and expected outcomes. The underlying bone may also be shaped or contoured as needed. Cheek augmentation leaves no obvious external scarring because all surgical incisions are made inside the mouth and in the scalp.
How Is Non-surgical Cheek Augmentation Via Fat Transfer Performed?
Cheek enhancement via fat transfer is performed by first harvesting fat from your own body–that is injected into the cheeks. This is done in such a way to create more masculine looking cheeks. If you prefer to avoid surgery, this non-surgical procedure is ideal for you.
Read more about Fat Transfer or read about Fat Transfer Using Stem Cells.
Frequently Asked Questions
Do cheek implants lift face?
Where are cheek implants placed?