The Evolution of the Facelift (Rhytidectomy)
It's only natural that, as we get older, our face loses muscle tone and the effects of gravity and sun exposure take their toll, resulting in a lack of definition and loose skin. In the past, the traditional facelift (AKA rhytidectomy) only treated the skin with little or no attention given to the deeper structures of the face resulting in a "stretched skin" look. Simply tightening the skin was not a good long-term solution to facial rejuvenation and results were often short-lived.
Thankfully the facelift has evolved!
The most significant advance in face-lifting surgery occurred in France in 1970's when a craniofacial surgeon realized that the deeper layers of the face could be placed back into a youthful position. This technique involves literally "lifting" the underlying facial muscles of the neck, jowls, and cheeks to create a more natural look. This singular event changed the entire approach of how we rejuvenate and "lift" an aging face. The techniques to reposition these tissues require a high skill level, knowledge of the underlying craniofacial structure, patience, and an artist's eye for aesthetic beauty – making all the difference.
Craniofacial Surgeons were the first to extensively use these new facelift techniques along with their highly developed understanding of facial skeletal anatomy and aesthetic proportions. Repositioning of the deep structures of the face extends the longevity of a facelift, makes for a more natural-looking result, and decreases the long-term cost to a patient.
Facial Rejuvenation for a Natural and Beautiful Result
Our approach to facial rejuvenation is a unique one in the San Francisco Bay Area. We take into consideration the entire face and neck – along with all your separate features to ensure facial aesthetic harmony. We may also recommend additional surgical, or non-surgical procedures if we feel that they will help achieve an optimum result. For example, as we evaluate an aging face, it is quite common to see that the lower or upper eyelids may need attention to ensure a rejuvenating outcome. In this case, we may recommend eyelid surgery (blepharoplasty) to ensure a successful result.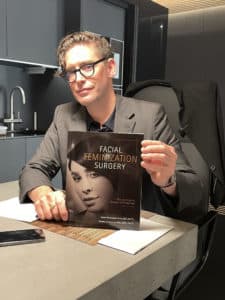 Just Published!
The wait is over! Dr. Deschamps-Braly's new book "Facial Feminization Surgery: The Journey to Gender Affirmation" is back and available now. This second edition covers the advances in facial feminization as well as helpful patient stories and is a great resource for FFS patients and their loved ones.
LEARN MORE
How Do I Know If I'm a Good Candidate for a Facelift?
If you're considering a facelift in the San Francisco Bay Area, it's good to get advice and guidance based on your current skin condition and desired aesthetic outcomes. However, there are several critical questions that should be taken into consideration:
Read more about the qualities of an ideal facelift candidate here.
What Is an Smas Facelift or Deep Plane Facelift?
There is a facial layer known as the Superficial Musculo Aponeurotic System (SMAS) that consists of ligaments that hold cheek fat, and therefore the cheeks themselves in their normal position.
The SMAS or Deep Plane facelift is ideal for those with sagging jowls, mild to severe skin laxity, and/or mid-face sagging. One of the biggest benefits of this type of facelift is it has longer-lasting with effects – lasting about 10 to 15 years with fewer revisions. The procedure works by re-suspending and then re-securing the SMAS layer. This rejuvenates the face by counteracting skin laxity caused by aging and gravity.
During the Deep Plane facelift, your plastic surgeon separates the skin from the SMAS layer. He then works in underneath the layer to release attachments, allowing him to literally "lift" the layer and its' accompanying skin, to a more natural and youthful position. The SMAS system is then tightened with sutures, and any excess or redundant skin is removed and the remaining skin is stitched closed.
Salivary Gland Reduction Is Typically Included with Your Facelift
For your facelift and/or neck lift procedure to produce optimum results, your surgeon will often recommend a salivary gland reduction (submandibular gland reduction) — a reduction of the salivary gland in the lower jaw. This reduction is occasionally necessary to ensure the successful aesthetic contouring and rejuvenation of the jawline and neck. It ensures that the glands along the jawline do not become more prominent, or create an overly visible, undesirable "bulge" below your jawline that can affect your result after your facelift and/or neck lift. The procedure is very safe because the submandibular gland is one of the smaller saliva glands and therefore, for most patients, its reduction does not result in any significant lack of saliva or "dry mouth." Other salivary glands in the upper jaw and under the chin will continue to provide sufficient saliva.
What Is Pan Facial Rejuvenation?
Pan facial rejuvenation is full facial rejuvenation, or a full facelift. This form of the facelift is ideal for older patients (50+) and has greater benefits and longer lasting results than the more common piecemeal approach to plastic surgery. Pan facial rejuvenation considers the "whole face" – rather than just altering specific parts resulting in a more harmonious, and natural looking result. It also means that your surgery is completed in one long surgical session, rather than several surgeries spread out over a longer period of time. The exact specific plastic surgery procedures that will end up being relevant to you will be decided upon consultation with your surgeon. Every face is unique and ages in a unique way.
Read more about pan facial rejuvenation here.
Fat Grafting and Your Face Lift
Fat Grafting (Fat Transfer) is a relatively new technique that is extremely complementary to a facelift. This technique has allowed us to improve our procedures to achieve results that are otherwise not possible. Extensive consideration of the techniques and methods has resulted in a finely tuned ability to help our patients achieve their goals. As part of your fat transfer procedure, you may also want to consider what is known as a "stem cell facelift," which is not technically a facelift, but is often called that because it rejuvenates the skin like a facelift in an aesthetic way rather than a structural way. The procedure involves injections of your own fat lipoaspirate (adipose) into the treatment area with no surgical cutting, lifting, or sewing of skin.
Read more about The Stem Cell "Facelift" here.
Non-surgical, Non-invasive Alternatives to Facelifts
Plastic surgery is not always necessary to achieve a younger and more youthful appearance, and sometimes a non-surgical approach is best. Facial volume restoration via injectable dermal fillers may work to lift the cheeks and restore lost facial volume. We recommend the safest and most proven dermal fillers including Restylane®, Restylane Lyft®, Restylane Silk®, and Juvéderm®.
Read more about our non-surgical facial procedures here.
Will I Also Need a Neck Lift Along with My Facelift?
Neck lifts are commonly performed at the same time as a face lift, but can also be undertaken on their own. Doing both of these procedures together greatly enhances positive results and ensures facial feature harmony. However, a full surgical neck lift may not be necessary, so you may also want to explore non-surgical options such as Botox® Cosmetic injection.
Read more about the Latest in Face Lift Techniques.
Am I Too Young – or Too Old – for a Facelift?
While it is difficult for us to advise our patients as to the exact right age for a facelift, typically if you're aged over 40 and considering a facelift, it pays to not wait too long. This is because women in their mid-forties still have sufficient skin elasticity to achieve the best results.
However, excellent results can still be achieved for women in their 60's or 70's if you are in good health. Ideally, we recommend the first facelift in mid-40's to early-50's, with a secondary "refresher" facelift in your mid-to-late 60's.
Read more about the right age for facelift here.
First Facelift vs Secondary Facelift
The aging process is a natural part of life, and nothing can halt it. Most facelifts last about 10-12 years, and you may eventually want a "refresher" procedure. The good news is that if your initial facelift was performed correctly, your second facelift will be easier for the surgeon to perform with less down time for you.
Read more about secondary facelifts here.
Facelifts for Men
More and more men are seeking facelift surgery to create a more rejuvenated look. In fact, since 2010, facelifts for men have increased by 43% (ASAPS 2015). If you're male and considering a facelift, it's critical that your plastic surgeon has plenty of experience in performing facelifts for men. This is because a male facelift is quite different from a female one, and should be performed only by surgeon who understands what constitutes a "male" face, as otherwise the procedure may unintentionally "feminize" the face.
Read more about facelift surgery for men here.
Pain Relief After a Facelift.
Our approach to pain relief is to reduce the chances of pain before, during and after surgery from the very beginning. To achieve this, we use advanced non-narcotic painkillers to reduce pain and swelling to promote faster recovery time and less discomfort.
Read more about our approach to pain relief here.
Why Is It Sometimes Necessary to Revise a Facelift?
One of the more frequent requests we get from our patients is for a revision or corrective facelift: to fix, or improve upon, a previous surgeon's work. There are many reasons why our patients may feel dissatisfied with a facelift, but the main reason is that they are simply unsatisfied with the outcome of the procedure. While corrective facelifts may be more challenging than the original surgery due to scar tissue, or other unknown factors such as hidden infections, the good news is that many facelifts can be improved upon via corrective plastic surgery.
Read more about facelift revision surgery here.
Facelift Recovery Timeline and Tips
Recovery time from a facelift will vary depending for each individual, but as a general rule, for most people of good health, noticeable swelling will be reduced within the first 10 days after surgery. However, a facelift is major plastic surgery and as with any surgery, there is a lengthy recovery process.