What Is Eyelid Surgery (Blepharoplasty)?
Eyelid surgery aesthetically modifies the eyelids and the area immediately around the eyes. The procedure is also used to correct any congenital defects and disfigurations of the eyelids. Because the eyelids are a dynamic and constantly moving structure, there is a myriad of complex considerations to take into account when deciding on a treatment plan for eyelid rejuvenation.
Do You Actually Need Eyelid Surgery?
Unfortunately, many patients don't realize when they ask for "eyelid surgery" that the eyes do not exist in a vacuum – they are inextricably connected to all other upper-facial features. For example, your surgeon cannot evaluate the upper eyelids without considering the positioning and shape of the eyebrows because they are intrinsically linked. And without a comprehensive look at these two structures and how they interact, inferior results are common. This is why sometimes eyelid surgery is done in conjunction with a brow lift, temple lift, and/or fat transfer procedure.
Traditionally, eyelid surgery was focused on removing loose or "drooping" skin and excess fat. As our knowledge and experience of these structures increased, we realized that in general the fat in our face atrophies as we age and that we often may not have as much "loose" skin as we might think.
Therefore, volume restoration using fat transfer and other techniques has altered the way we perform eyelid surgery. Restoring volume first, and then re-positioning the brows into their proper position allows us to more accurately assess the upper eyelids. With this more considered and detailed approach, we often find that less aggressive procedures will deliver a more optimum outcome.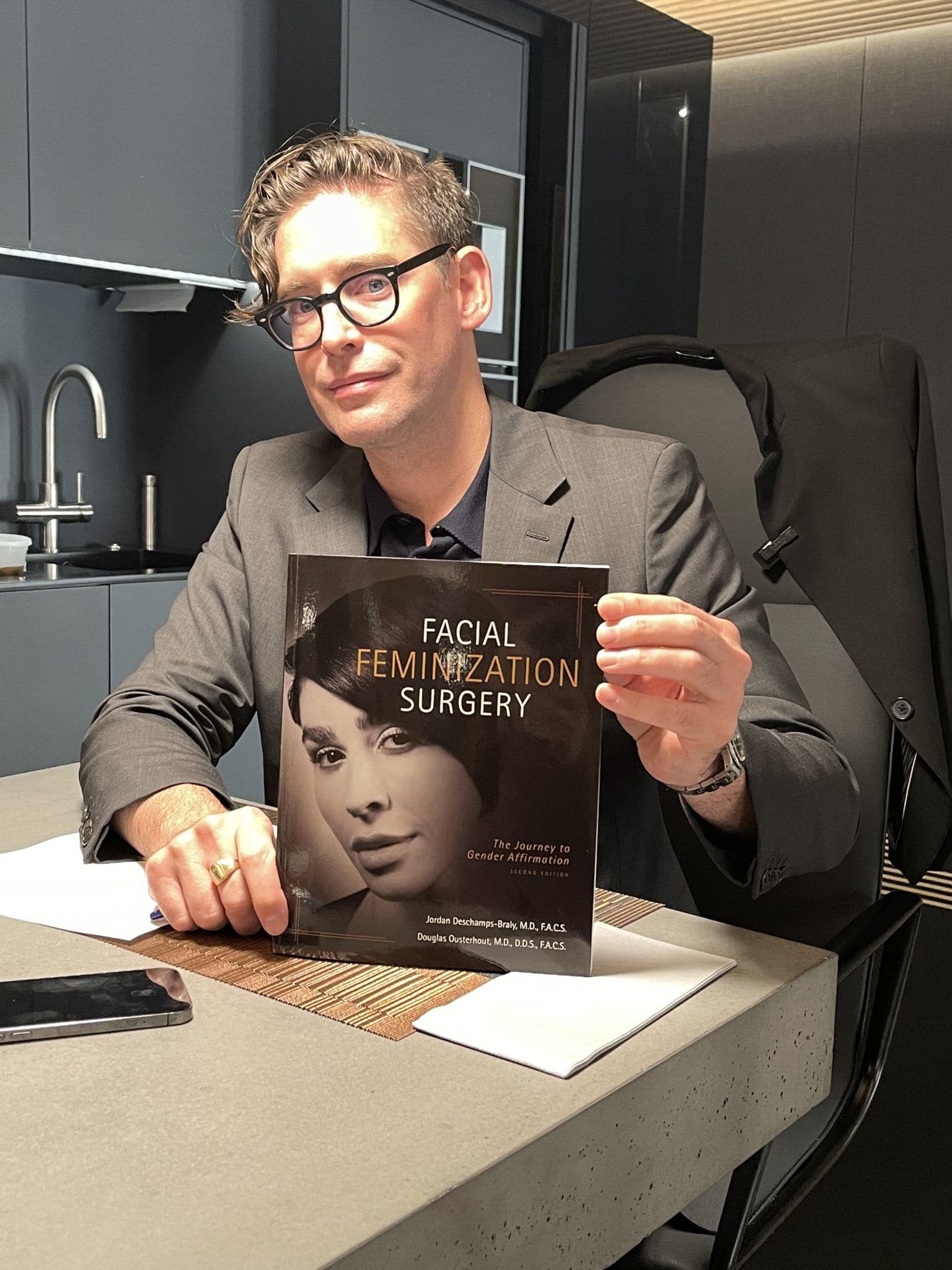 Just Published!
The wait is over! Dr. Deschamps-Braly's new book "Facial Feminization Surgery: The Journey to Gender Affirmation" is back and available now. This second edition covers the advances in facial feminization as well as helpful patient stories and is a great resource for FFS patients and their loved ones.
LEARN MORE
Double Eyelid Surgery (Asian Blepharoplasty).
Double eyelid surgery, otherwise known as "Asian blepharoplasty" is a popular surgical procedure in San Francisco and the Bay Area which is home to people from diverse Asian ethnicities.
The surgical technique for double eyelid surgery requires a unique appreciation for the aesthetic beauty of the uniquely Asian face so that the results seem natural and are in harmony with other facial features. The procedure involves creating an eyelid fold to enlarge and "open up" the eyes. Depending on your particular eyelid features, the procedure may also involve small incisions, sutures, and fat removal or fat transfer.
Are You a Good Candidate for Eyelid Surgery?
If you're considering upper or lower eyelid surgery, your plastic surgeon will provide guidance on whether a blepharoplasty is the right procedure for you. There are several critical variables to take into consideration and sometimes another procedure may actually help you gain the results you're seeking. You may also not be a good candidate if you have any pre-existing medical conditions, and instead should consider a non-surgical alternative.
Read more to find out if you're a good candidate for blepharoplasty.
Eyelid Surgery Recovery Timeline and Tips
If you are considering upper or lower eyelid surgery, or double eyelid surgery, it is important to know beforehand how to look after yourself after surgery. Following recovery guidelines will help you to speed the healing process and get the best results.