Perioral Rejuvenation
The 'perioral' area of your face is the area immediately surrounding your mouth. The perioral area includes several features: both lips, upper lip area under the nose, nasiolabial folds ("smile lines" or "laugh lines"), and the corners of the mouth. As we age, it's only natural for fine lines and wrinkles to appear around the mouth. These may be more accentuated if you're a smoker causing sharp lines to radiate outwards from the lips, typically called "lipstick lines". We may also lose volume in the top or bottom lip giving the mouth a "severe" or overly "stern" expression.
There are several treatments for perioral rejuvenation that work to give your mouth a much younger appearance. During your initial consultation, your plastic surgeon will outline all relevant options and explain each procedure in detail. You may only need a few of the following treatments, or several different procedures to obtain your desired aesthetic goal:
Perioral Dermabrasion to Reduce Lines Around the Mouth.
Perioral dermabrasion (AKA dermaplaning) gently removes several layers of skin to reduce the appearance of acne scarring, sun damage, uneven pigmentation, smoker's lines, and wrinkles around the mouth. Dermaplaning stimulates collagen production resulting in a much smoother skin texture. Read more about facial dermabrasion here.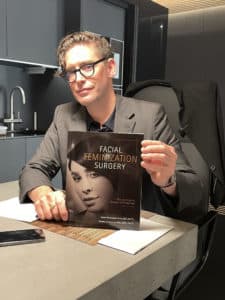 Just Published!
The wait is over! Dr. Deschamps-Braly's new book "Facial Feminization Surgery: The Journey to Gender Affirmation" is back and available now. This second edition covers the advances in facial feminization as well as helpful patient stories and is a great resource for FFS patients and their loved ones.
LEARN MORE
Dermal Fillers: Restylane® for Lip Augmentation.
Dermal fillers such as Restylane® are very popular for adding volume and fullness to the lips that have been diminished by aging. Restylane® is an injectable, non-surgical treatment consisting of hyaluronic acid — a safe, natural, and long-lasting substance that boosts lip volume, improves structure, and most critically, improves the overall shape of the lips. Dermal fillers are also reversible, making them a good option for those who are new to cosmetic rejuvenation. Read more about Restylane® dermal filler here.
Fat Grafts (Fat Transfer) for Lip Augmentation.
Fat grafts or fat transfer (A.K.A. autologous fat transplantation) works to naturally 'plump' aging lips that may have lost volume. This is a minimally invasive surgical procedure whereby your plastic surgeon 'harvests' your body's own fat (usually from the abdomen) and injects it into your lips to create fuller and plumper lips. Fat grafting for lips is very popular because it is very natural and has a permanent result for most people. Read more about Fat Transfer here.
Botox® and Dysport® Injections for Reducing Wrinkles and Smile Lines.
BOTOX® and Dysport® injections are a very popular option for the perioral area because they are safe, effective and long-lasting. When injected with the correct skill and artistry this treatment results in a very natural-looking result. With a skilled aesthetic specialist, the degree of treatment is easily controlled ensuring you'll still be able to smile naturally. Read more about BOTOX® and Dysport® injections here.
Upper Lip Lift Surgery
As we age the skin between the nose and the upper lip lengthens downwards, resulting in lips that may appear thin and flat — producing an overly "stern" expression in the perioral area. An upper lip lift improves your overall facial appearance by allowing more of your upper teeth to show when smiling – contributing to a rejuvenated and much younger look without the use of lip "plumping" agents. Incisions are hidden in natural creases beneath the nostrils, leaving no obvious scarring. Read more about upper lip lift surgery here.
Platelet Rich Plasma (Prp) Injections
Platelet Rich Plasma (PRP) A.K.A. the "Vampire Facelift", is a non-invasive rejuvenation treatment that uses your own blood plasma to rejuvenate the facial skin in the perioral area and other parts of the face if required. The plasma is enriched with platelets – blood cells whose function is to stop bleeding and promote faster healing. Read more about PRP treatments here.
Microneedling
Microneedling – also known as Skin Needling – is the use of a series of tiny and very short needles to penetrate the skin in the perioral area. The procedure sounds painful but the needle is tiny creating a very mild sensation and only very superficial punctures of the skin's epidermis. These "micro-injuries" catalyse the skin's own natural healing response to produce and rebuild collagen and elastin, resulting in a smoother appearance and a reduction of fine wrinkles and lines around the mouth. Read more about microneedling here.
Who Will Perform My Perioral Rejuvenation?
All injectable perioral treatments are performed by Jennifer Fick, FNP-C, CANS, a Board Certified Aesthetic Nurse Specialist. You can read more about Jennifer here or on her own website. Dr. Deschamps-Braly is on hand to perform any dermabrasion, fat transfer and upper lip lift perioral procedures and also to consult in more complex cases if necessary.