What Is Kybella®? How Does It Reduce a Double Chin?
Kybella® contains a naturally occurring molecule called deoxycholic acid that aids in the breakdown of submental (under chin) fat. Specifically targeted for reducing submental fullness — A.K.A. a "double chin" — this is a non-surgical, injectable treatment that destroys fat cells and essentially dissolves excess fat permanently. The treatment is ideal for those seeking a non-surgical and relatively painless solution to reduce a "double chin".
Who Is the Ideal Candidate for Kybella® Injections?
In terms of the ideal candidate age for Kybella®, you should be in your 20's, 30's, and possibly even early 40's. If you're older, Kybella® may not be the best choice for you. In that case, to get the best result you may want to consider a neck lift or neck liposuction.
Is the Kybella® Treatment Experience Painful?
The Kybella® treatment experience is relatively painless and will take about 10 minutes or less — similar to the application of Botox® or Dysport® injections. During your treatment session, you will receive a series of small, shallow injections under your chin. Immediately after treatment, you may experience a very mild stinging or burning sensation but you will be given an icing pack to relieve any discomfort. Kybella® injections can be quickly administered during a short visit to our San Francisco office.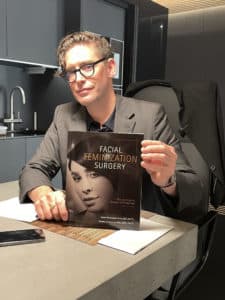 Just Published!
The wait is over! Dr. Deschamps-Braly's new book "Facial Feminization Surgery: The Journey to Gender Affirmation" is back and available now. This second edition covers the advances in facial feminization as well as helpful patient stories and is a great resource for FFS patients and their loved ones.
LEARN MORE
Does Kybella® Have Any Side Effects?
Kybella® has been specifically approved as a safe treatment for excess fat under the chin. Overall, most people only experience very mild side effects including mild numbness and temporary swelling for 3-4 days after treatment.
How Many Treatments Do I Need to Eliminate My "Double Chin"?
Depending on your desired result, your Kybella® specialist will recommend a treatment plan and an approximate number of appointments. Typically most people undertake 3-4 treatments spaced about a month apart, however, you will notice significant results within 2-3 treatments. Because Kybella® removes the fat cells under the chin, the results of treatment will last for years, if not permanently.
Why Might It Sometimes Be Necessary to "Revise" a Previous Kybella® Treatment?
Sometimes, depending on the skills and training of your Kybella® provider, a treatment may not go as planned and your expectations may not be met. If this occurs, you may want to seek a new series of injections from a more qualified provider.
Read more about Kybella® revision treatments here.
Who Performs The Kybella® Treatment?
Kybella® injections are performed by Jennifer Fick, FNP-C, CANS, a Board Certified Aesthetic Nurse Specialist. You can read more about Jennifer here or on her own website. Dr. Deschamps-Braly is on hand to consult in more complex cases if necessary.