Feminizing Cheek Augmentation and Reduction Surgery
A woman's face is characterized in part by her rounder and fuller cheeks and prominent cheekbones that project further out, creating the "high cheekbones" profile, a much sought-after feminine feature. Feminizing cheek enhancement surgery will accentuate the upper face and give the cheeks a more feminine shape and projection.
Yet, just regarding someone as having either large or small cheekbones is a unrefined, and too simplistic, way to look at feminization of the cheeks. The "shape" of the cheek bones is just as important as the "size" of them. The width and the projection of this facial feature will differ from person to person–for each face is unique.
Depending on your desired result you may require cheek augmentation, or cheek reduction, or a blend of the two procedures.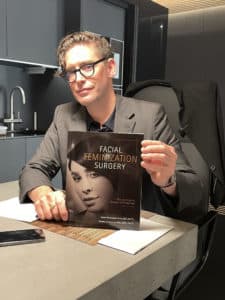 Just Published!
The wait is over! Dr. Deschamps-Braly's new book "Facial Feminization Surgery: The Journey to Gender Affirmation" is back and available now. This second edition covers the advances in facial feminization as well as helpful patient stories and is a great resource for FFS patients and their loved ones.
LEARN MORE
Cheek Enhancement Procedures for Facial Feminization
Rarely, do we find that difficient cheek bones need to be addressed by inserting an implant. Often, the cheeks can be carefully augmented with a fat transfer without the complication profile of a cheek implant.
Also, we find many patients ask for cheek implants when in fact their issue is age-related deflation of the cheeks. Placing an implant into a cheek that is "thin" or becoming "deflated" would only risk that the implant is visible over time, which is not ideal.
Therefore, we most often recommend lipo filling of the cheeks, which gives your surgeon a lot of control to sculpt and shape the cheek, while also addressing aging-related volume loss in the cheeks.
Enhancing the cheeks with the aim of feminization involves either:
Cheek Augmentation: augmenting the cheeks with lipo filling or sometimes placing implants over the bone, under the skin to increase the fullness of the cheeks while eliminating sallowness, or,
Cheek Reduction: reduces the width and/or the prominence of "chubby" cheeks,
Volume Enhancement with Fat Injections: improves the size and shape of the cheek when the face appears thin or deflated.
How does Cheek Augmentation make the cheeks appear more Feminine?
Feminizing Cheek Augmentation makes the cheeks appear fuller and more prominent, while reducing any sunken look or sallowness. Depending on your facial shape, augmentation may soften and round facial features to create a softer, smoother, more feminine appearance; and a more heart-shaped facial contour. Augmentation of the cheek may also help to provide some lift which has the effect of rejuvenating the mid-face.
How is Cheek Augmentation performed within the context of Facial Feminization Surgery (FFS)?
Cheek augmentation is performed under general anesthesia as part of the series of Facial Feminization Surgical procedures. Incisions are made inside the mouth and in the scalp, leaving no obvious external scarring.
Typically, cheek enhancement surgery is performed in sequence during a long format surgery lasting 10-12 hours, depending on your unique facial features and recommended surgical plan.
How does Cheek Reduction help with Facial Feminization?
Feminizing cheek reduction reduces the prominence of the cheeks, allowing those with excess fullness in this region to have more balanced facial features. Depending on your cultural heritage and ethnicity, you may have cheeks that are excessively "full" in one area, and in need of augmenting in another.
How will I know which procedure is necessary to Feminize my Cheeks?
Depending on your unique facial features, your surgeon will outline a recommended surgical plan within the context of your FFS surgery. You may need both procedures, depending on your desired result and existing facial features.