What is a ResurFX™ Treatment?
ResurFX® is a state-of the art fractional non-ablative skin resurfacing technology, a new way to resurface skin and rejuvenate collagen with minimal downtime. Fractional lasers treat a portion of the skin leaving the untreated skin to rejuvenate and repair the treatment area. Thousands of fractional microchannels are created in the skin to improve the appearance of fine lines and wrinkles, minimize pore size, scarring stretch marks and hyperpigmentation. The ResurFX technology uses a unique scanner to place each fractional spot in a controlled and specific manner to protect tissue from overheating during the treatment. ResurFX® treatments result in more youthful-appearing skin.
How does the ResurFX® treatment work?
The ResurFX™ laser utilizes a unique, patent pending CoolScan™ scanner and continuous contact cooling to protect the treated tissue from heat accumulation and overheating. These features give your provider nearly unlimited treatment parameters to customize the procedure for your skin type and condition. The ResurFX™ laser delivers tiny, controlled injuries (microchannels) into the deep dermis to stimulate collagen production through the healing process. Because these tiny micro-injuries are controlled and the epidermis remains intact after the treatment, downtime can be somewhat less than other ablative resurfacing procedures.
How many ResurFX™ treatments do I need?
Most patients benefit significantly from a series of three treatments spaced 3-4 weeks apart and you may continue to see beneficial skin changes for a month or more after your final treatment. After the initial treatment series, many patients schedule to have follow-up treatments one to two times annually to further improve and maintain treatment results.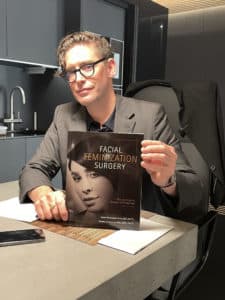 Just Published!
The wait is over! Dr. Deschamps-Braly's new book "Facial Feminization Surgery: The Journey to Gender Affirmation" is back and available now. This second edition covers the advances in facial feminization as well as helpful patient stories and is a great resource for FFS patients and their loved ones.
LEARN MORE
Who is not a candidate for ResurFX® treatment?
ResurFX™ is contraindicated for patients taking Accutane, and for 6 months after discontinuing Accutane. If you are currently tan or have recent sun exposure, any tan must fade completely prior to having a ResurFX™ treatment to avoid potential side effects. Patients with certain connective tissue or autoimmune disorders may not be a candidate for ResurFX™ treatment. If you have any chronic medical conditions, do discuss them with your provider to ensure that any special accommodations are taken to ensure your treatment is successful. We don't perform ResurFX™ treatments during pregnancy. Certain lesions and acne breakouts may result in your procedure being rescheduled until your skin is clear. We pretreat patients with a history of cold sores with an antiviral medication prior to treatment. If you have any questions about your medications, or if you start a new medication prior to your treatment, make sure to notify your provider.
Are there any side effects?
During the treatment there will be some mild discomfort and stinging. We will use a topical anesthetic to provide additional comfort during the treatment. After the treatment your skin will feel very warm for a few hours. You will notice immediate swelling that subsides over the next few hours or 1-2 days. Redness following treatment typically resolves in 1-3 days, and you may see a residual pink or bronze hue for up to a week afterwards.
It is rare for mild blistering, scabbing and bruising to occur, but it is self-limiting and typically resolves spontaneously. Post treatment hyperpigmentation and hypopigmentation rarely occur but are treatable if they persist. It is extraordinarily rare for scarring or negative skin texture changes to occur.
Does the ResurFX® treatment work for body areas?
ResurFX® treatments can be performed on any area of the body that has sun damage, fine lines, wrinkles, texture issues, stretch marks and scars, both trauma scars and surgical scars. It is often used to more quickly improve the appearance of surgical scars after surgery.
How can I prepare for my treatment?
It is best to arrive at the office without make up, but it will be removed for you prior to treatment. Men need to shave closely on the day of treatment. Some patients require pretreatment with prescription topicals prior to their treatment, and your provider will review your program if necessary.
After the procedure moisturizer and sunblock will be applied and we will review your post care instructions. You should plan to avoid sun exposure for 4 weeks before and after treatment and wear a sunblock (preferably with titanium or zinc as the primary active agent) daily and reapply if necessary. If you spend a lot of time outdoors, please also wear a hat or visor. After the treatment, a gentle skin care regimen is recommended until your skin no longer feels tight or dry. You should avoid strenuous exercise and flushing triggers for 48 hours after the treatment.
You should plan for a few days of "social downtime" to accommodate for the residual redness and swelling that will occur after the treatment. Downtime may vary from patient to patient, and from procedure to procedure. Schedule your consultation today!