What Procedures are included in Cheek Enhancement?
Cheek enhancement changes the shape and size of the cheeks in both men and women. Some facial gender confirmation patients may prefer higher, more prominent cheekbones while reducing excessive fullness or "chubby" cheeks. Cheek enhancement includes either:
Augmentation via insertion of implants on the bone, under the skin
Augmentation via fat transfer, using your body's own fat to increase cheek fullness without invasive surgery
Reduction to decrease the width, fullness, and/or the prominence of the cheeks via fat removal, shaving or contouring of the underlying cheekbone.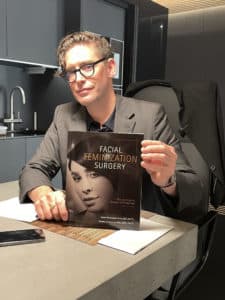 Just Published!
The wait is over! Dr. Deschamps-Braly's new book "Facial Feminization Surgery: The Journey to Gender Affirmation" is back and available now. This second edition covers the advances in facial feminization as well as helpful patient stories and is a great resource for FFS patients and their loved ones.
LEARN MORE
How is Cheek Augmentation via Implants Performed?
Cheek augmentation is performed with implants inserted through incisions on the insides of the mouth. The size and shape of the implants will depend on your underlying bony contours and expected outcomes. The underlying bone may also be shaped or contoured.
How is Cheek Augmentation via Fat Transfer Performed?
Volume increase via fat transfer injections is performed by harvesting fatty tissue from your own body and injecting it into the cheeks. This non-invasive procedure is done in such a way as to enhance your natural features and promote a more youthful, full-cheeked appearance. It is a non-surgical procedure ideal for those who wish to avoid surgery. Read more about fat transfer or about fat transfer using stem cells.
How is Cheek Reduction Performed?
Cheek reduction involves shaving or moving the cheekbone using geometric cuts to reduce the prominence of the cheeks. This procedure may also involve removal of fatty tissue from the cheeks.