The Beginnings of Facial Feminization & Gender Confirmation Surgery
Prior to the advent of gender confirmation and facial feminization surgery, individuals who suffered from gender dysphoria had no viable medical or surgical options. They could "dress to pass" as the gender they identified with but were still often seen by the world at large as their assigned gender-at-birth. Transgender individuals often lived with a deep sense of dissatisfaction and feeling uncomfortable in their own skin — physically, emotionally and psychologically.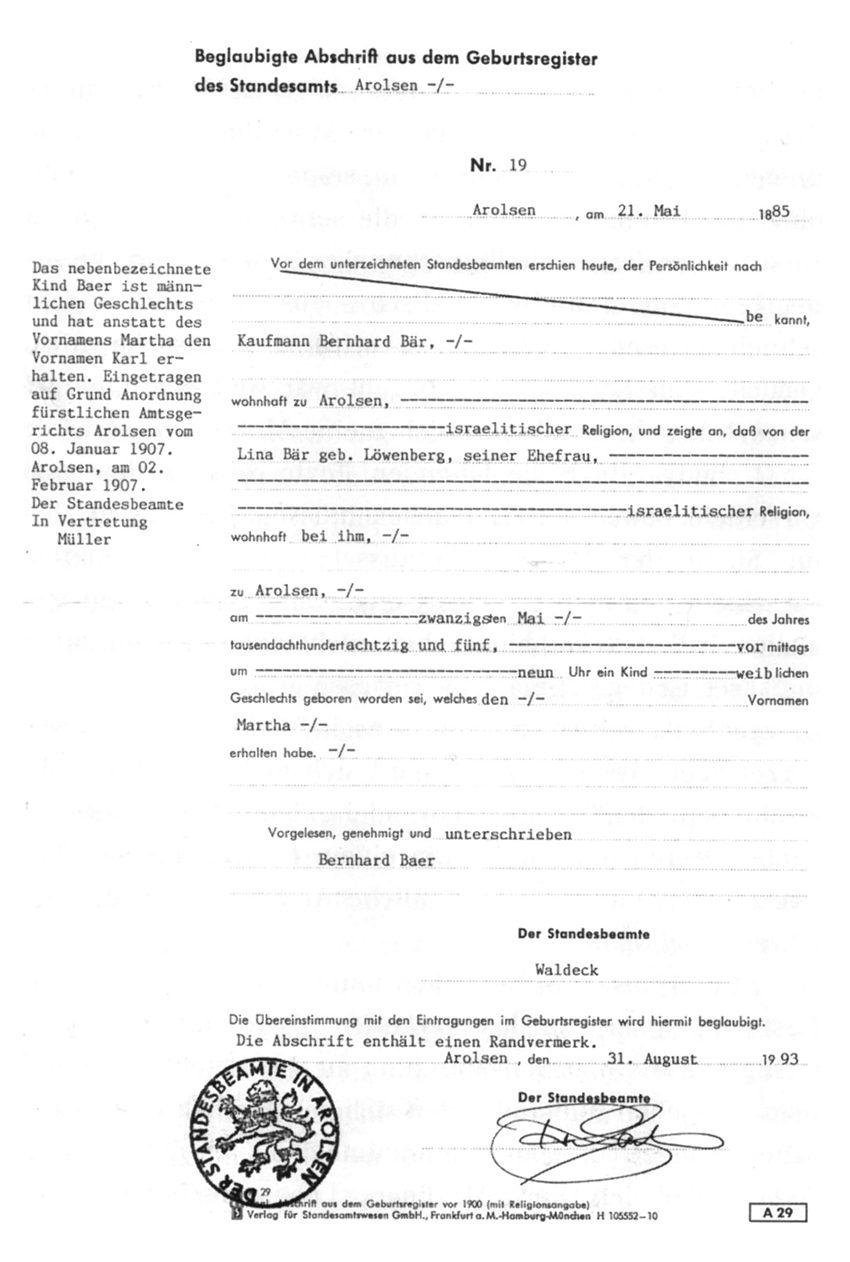 Karl M Baer Geburtsregister Arolsen. Image source: Wikipedia
The Very First Known Case of Gender "Reassignment" Surgery
In 1906, Karl "Martha" Baer attempted suicide by stepping in front of a streetcar in Berlin after an affair with a married woman had been discovered. Baer was found to be presenting as male despite papers identifying him as female.
Dr. Magnus Hirschfeld was consulted and in 1907 the patient underwent a surgical procedure to masculinize his intersex genitals — likely via metoidioplasty. Assigned female at birth, he became one of the first people to undergo "sex reassignment" surgery in December of 1906 — and also consequently the first female-to-male (FTM) transgender. In January 1907, he also became the first person to gain full legal recognition by having a new birth certificate issued reflecting his new gender.
Lili Elbe 1926. Image source: Wikipedia
The Early, Experimental Years (1922-1969)
The origins of gender confirmation surgery can be traced back to the early 20th century when gender-related surgery was experimental and rare. One of the first identifiable recipients of gender confirmation surgery was Rudolph "Dorchen" (Little Dora) Richter, who had an orchiectomy in 1922 by her own request at the Institut für Sexualwissenschaft, founded by Magnus Hirschfeld in Berlin. Then later in 1930, she underwent penectomy by Dr. Levy-Lenz and then vaginal reconstruction by Dr. Gohrbrandt.
Lili Elbe, a Danish Transgender woman, was the next known case in 1930. The first surgery (removal of the testicles) was made under the supervision of sexologist Magnus Hirschfeld in Berlin. The rest of her surgeries were carried out by Dr. Kurt Warnekros, a doctor at the Dresden Municipal Women's Clinic.
During the 1950's, transgender women benefited from newly available female sex hormone therapy. One of the pioneers in this field was German-born Psychiatrist and Sexologist, Dr. Harry Benjamin, a peer of Dr. Hirschfield in the early 20th century in Germany. After immigrating to the United States, Dr. Benjamin became known internationally for his efforts to advance the field of non-surgical care for transgender individuals. He published papers and lectured to professional audiences extensively, and his book, The Transsexual Phenomenon, was the first large work describing and explaining the affirmative treatment path he pioneered.
He also established the world's first clinical psychiatric practice focused on the medical and psychological needs of the transgender individual. For over five decades, Benjamin conducted treatment in collaboration with carefully selected colleagues of various complementary disciplines for hundreds of patients with gender identity issues – and Christine Jorgensen was one of his early patients in the 1950s.
In 1952, Christine Jørgensen, an American trans woman, had gender confirmation surgery in Denmark. When her transformation made the front page of the New York Daily News, she became an overnight sensation, and she used the opportunity to become a strong advocate for the rights of all transgender people.
Some surgeons performed MTF surgery using skin grafts taken from the thighs or buttocks. Doctors also first successfully completely removed the male organs in several male-to-female surgical procedures. Although, access to male-to-female surgery remained limited to a small group of patients in Europe.
Christine Jorgensen 1954. Image source: Wikipedia
MTF Gender Confirmation and Facial Feminization in the United States (1966-present)
The first male-to-female surgeries in the United States took place in 1966 at the Johns Hopkins University Medical Center. The first physician in the United States to perform gender confirmation surgery was the late Dr. Elmer Belt, who did so until the late 1960s.
Another notable person to transition was Renée Richards. She underwent male-to-female gender confirmation surgery in the mid-1970s, and successfully fought to have transgender people recognized officially with their new gender.
Beginning in 1983, facial feminization surgery (FFS) (in addition to body-focused male-to-female gender confirmation surgery) was pioneered by Dr. Douglas K. Ousterhout in San Francisco. The popularity of facial gender confirmation has grown over the past 15 years for those pursuing male-to-female surgery.
Dr. Douglas Ousterhout – the Pioneer of Facial Feminization Surgery
Douglas K. Ousterhout, MD, DDS, is widely regarded as the world's pioneer of facial gender confirmation.
After training with Dr. Paul Tessier, the father of craniofacial surgery, Dr. Ousterhout returned to San Francisco where he helped launch the Center for Craniofacial Anomalies at the University of California, San Francisco, Medical and Dental Centers.
His work at the Center for Craniofacial Anomalies at UCSF paved the way for his future focus–pioneering work and expertise in FFS.
Dr. Ousterhout began his private practice in San Francisco in 1973, making the practice one of the oldest continuing plastic surgery practices on the west coast. His specialty became facial feminization surgery for trans women, and he was widely considered the foremost facial feminization surgeon in the United States.
Dr. Douglas Ousterhout's First Facial Feminization Surgery in 1983
In 1982, Dr. Ed Falces, a plastic surgeon who performed body-focused gender confirmation surgeries, approached Dr. Ousterhout with a request from "Lucy", one of his male-to-female transgender patients. Lucy wanted plastic surgery to make her face appear more feminine. Dr. Ousterhout agreed to the collaboration with Dr. Falces and performed a forehead feminization procedure on Lucy – which involved the "Ousterhout Type II" forehead procedure.
Up until this point, Dr. Ousterhout's practice had predominantly involved with reconstructing faces and skulls of people who had suffered birth defects, accidents, or other trauma. After assisting Dr. Pratt with Lucy, he was keen to understand better what was deemed a "female face" for future craniofacial procedures he might undertake.
Dr. Ousterhout conducted extensive research to identify which facial features were consituted feminine in shape and size. He derived measurements defining those features from a series of cephalograms taken in the 1970s, and then worked with a set of several hundred skulls to determine if he could consistently differentiate females and males using those measurements only.
Dr. Ousterhout then began adapting surgical techniques and materials he already used to transform and feminize the male face. For over two decades, he added more procedures and developed more aggressive techniques, with the goal of producing better outcomes and more attractive faces for transgender patients.
Just some of the new techniques and procedures he performed in FFS included advancing the hairline; making the forehead smaller and rounder; reducing the brow ridge; shortening and narrowing the nose; shortening the upper lip; shortening the chin; narrowing the jaw; and reducing the laryngeal prominence.
In 1998, Dr. Ousterhout left the University to devote approximately 80% of his practice time to the care of the transgender.
In 2006 he was one of only about twelve surgeons in the world performing FFS.
In the course of more than 30 years, he has performed thousands of successful facial feminization surgeries–seeing each patient as an individual who deserved to have their desired physical appearance and enhanced self-esteem. His contributions to patients and the medical community are unparalleled and he is known by the medical community as the pioneer of facial feminization surgery.
In addition to publishing well over a hundred scientific publications, Dr. Ousterhout published his medical textbook Aesthetic Contouring of the Craniofacial Skeleton in 1991. In 2009, he published Facial Feminization Surgery, a guide for the prospective patient, which was based on having completed nearly seven thousand various procedures on eleven hundred patients.
Dr. Deschamps-braly Continues Dr. Ousterhout's Legacy with Continued Innovation in the Field of Gender Reassignment Plastic Surgery.
Dr. Deschamps-Braly is the only surgeon that Dr. Ousterhout has trained and mentored in the art and practice of gender facial confirmation surgery. He carries on the practice of a longstanding and innovative surgical practice in Facial Feminization Surgery (FFS) and now also groundbreaking work in Facial Masculinization Surgery (FMS) – incorporating the best of tradition and innovation in transgender plastic surgery.
In fact, Dr. Deschamps-Braly has just completed the world's first Adam's apple augmentation via natural implant involving the insertion of an implant made from the patient's own rib cartilage to increase the size of the Adam's apple to make it appear more masculine. Read more about facial masculinization here.
Like his mentor Dr. Ousterhout, Dr. Deschamps-Braly maintains a full surgical schedule, as well as a prolific academic career authoring numerous papers on craniofacial surgery. He also travels extensively presenting at various national and international conferences on a range of plastic and craniofacial surgery topics.