We are excited to announce the opening of our new office space along with a simultaneous feature in the online and print editions of Wallpaper* magazine.
Located in the Tiffany Building overlooking Union Square in San Francisco's downtown district, this modernist space was designed by Delugan Meissl Associated Architects, Vienna — designers of the Porsche Museum Stuttgart, Germany.
"The extraordinary precision, subdued beauty, and intimate ambiance reflect the approach of both architect and doctor: 'We very consciously sought to avoid associations with a sterile clinical space,' explains Delugan."
– read more in Wallpaper* magazine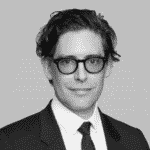 Dr. Deschamps-Braly is a board-certified plastic and craniofacial surgeon specializing in facial plastic surgery, orthognathic (jaw) surgery, and craniofacial surgery for adults and children. He is also one of the world's foremost leaders and innovators in facial gender confirmation surgery.